In 1986, Rishi Kuba founded USA Electronics, Inc. and set out on a journey to redefine Technology product sourcing in Corporate America. The company quickly earned a reputation as a smart and innovative technology product sourcing company, demonstrating, its passion for helping its clients identify and create their ideal technology environment.
As the technology industry grew at a rapid pace, so did USA Electronics, Inc. By 1990, USA Electronics, Inc. had solidified its leadership position in the technology product sourcing industry and in the late 90's, began offering networking, cabling, security, database management, and other IT services. Dallas Business Journal has recognized USA Electronics, Inc. as the fastest growing Technology growing company in 1997, and USA Electronics, Inc. earned the 19th position in the Dallas Business Journal.
…
WHY USA Electronics, Inc.?
USA Electronics, Inc. is an information technology products and services firm helping businesses lower their costs and increase their return on investment with their information technology needs. In simple terms, USA Electronics, Inc. assists small, medium and large companies cut costs and increase efficiency in procuring computer products and technology components and services.
USA Electronics, Inc. is a qualified and certified woman and minority owned enterprise.
Our Organizational Culture
Each member of our Team is commited to:
Doing Business with Integrity, Honesty, and Trust
Building and developing Good, loong-Term Customer Relationships
Doing Business with Flexibility, Reliability, Quality, and Exceptional Customer Service
Keeping the Customer's Interest in Mind
Going the Extra Mile and Relentlessly Pursing superior Customer Satisfaction
Continually Adding Value and Be Most Responsive to Our Customers
Constantly Improving and Enhancing Our Knowledge
Consistenly Delivering on Our Commitments
USA Electronics, Inc.'s strong vendor partnerships allow us to provide products at better prices for our clients, and with better services than our competitors. With our associates, GCI Systems, Inc., we are proud members of Venture Tech Network, which is a national organization comprised of independent authorized Solution Integrators and Computer Dealers. With the Strength of about 450 highly technical and established members and full backing and support of the world's biggest distributor, INGRAM MICRO, we provide high quality technical solutions for businesses like yours.
Venture Tech membership allows for 10,000 technicians with over 50,000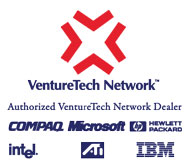 certifications located in 900 locations, to be available to our customers. This means we have highly specialized skills available if you need them. We can handle all your locations in the United States with a single call to our office.
We have industry and vendor relationships, and can bring the expertise your business requires. Our vendor partners support us with high-end technical support only available to their partners, and we bring that to you at no cost to you.
We are a small business like others, and we understand your risk issues and budget constrainst and can balance your growth versus profitability.
Please contact us for more information
Call Us Today
214 349-4113
FAX 214 349-4689
Email:
info@usaelectronics.com